When it comes to financial matters and investments, ensuring compliance with tax regulations is a fundamental requirement. In this article, we'll delve into the importance of providing your tax number and shed light on why it's a crucial step in completing your FXTM account with a taxpayer identification number (a.k.a TIN).
Why is FXTM asking for my Taxpayer Identification Number (TIN)?
FXTM is a licensed and regulated financial institution. As such, we're legally obliged to inform the Mauritius tax authorities of the countries in which you are considered a tax resident. The Mauritius government cooperates with other countries to counter tax evasion and therefore requests this information from financial institutions.
Where should I enter my Taxpayer Identification Number (TIN) on MyFXTM?
If you have registered an account, please follow these steps to enter your TIN on MyFXTM:
Log into your dashboard
Click on 'My Profile'
Scroll down to the bottom right of the page
See the section 'Tax Identification Number'
Enter your TIN in the field
Save your changes by clicking 'Submit'
If you don't have a TIN, you'll have to give the reasons as to why not, considering your local tax laws and CRS regulations.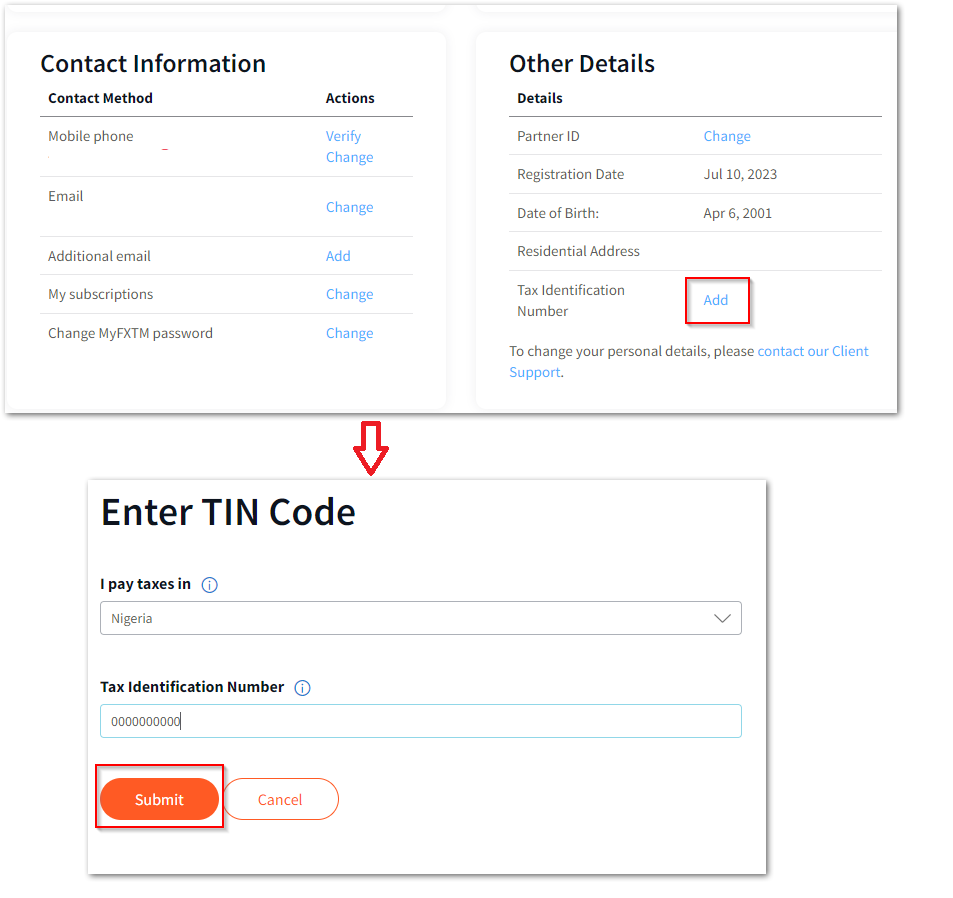 Tip
: If you have just completed registration process but did not enter your TIN, you will see an "Action Required" banner showing in your MyFXTM dashboard. Once you click on the banner, it will direct you to the User profile section to input your TIN.

Can I provide my Taxpayer Identification Number (TIN) later?
 Yes, we can totally understand you may need time to obtain your TIN from your tax authority. In case if you are filling out our account application form, please proceed to submit it and choose "I'll add later" on the pop-up message appearing. You will be given a time period of 90 days to continue trading without any restriction.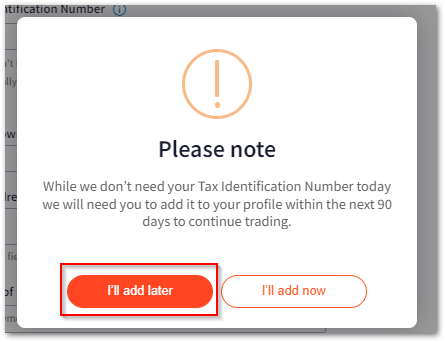 What will happen if I do not provide my Taxpayer Identification Number (TIN)?
We will need you to provide your Taxpayer Identification Number (TIN) within 90 days from your account registration so we are able to continue provide you with trading services. In case if you have not provided us within 90 days, your trading account will be restricted, i.e. you will not be able to open new positions.
Note: We only collect your TIN for our record purpose as part of our regulatory requirement. We do not provide any information to your Tax Authority