In general, a 'No connection' error indicates that you're not connected to our trading server and will not receive price quotes.

Connection Status Bar Color
Explanation

Full red bars

Red connection bars indicate no connection to the trading servers.

Red bars may also appear as a result of unavailability or issue of your internet.

Green/red bars

Green and red bars mean a direct connection to the server

but it may be 'misbehaving'. The internet connection isn't as strong or as stable as it could or should be.

Green/blue bars

Green and blue bars indicate that your MT4 is connected directly to the data centre and you shouldn't see any 'No connection' error.
Other possible reasons for the 'No Connection' error include poor internet connection, a problem with the server, a firewall, an anti-virus application and/or choosing the wrong server during the login.
Troubleshoot your 'No Connection' error:
1. Check if you have chosen the right server name or address
The first thing you should try is to check if you've selected the correct trading server. Every account type has a different trading server name/address. For example, the trading server name for Advantage MT4 account is ForexTimeFXTM-ECN2.
Please note that on mobile MetaTrader, you may get a 'Connection closed due to invalid server name' error message.
2. Scan for servers
Here are the steps on how to rescan your server (laptop):
1. Go to "File".
2. Click "Open an account".
3. Scroll down the server list and click on the green (+) button.
4. Enter the server name of your account. E.g. ForexTimeFXTM-ECN2.
5. Click "Scan".
6. Choose the correct server and click "Next".
7. Enter MT4 login ID and password.
8. Click "Finish".
If successful, you should see the connection speed at the bottom right corner of your MT4 platform.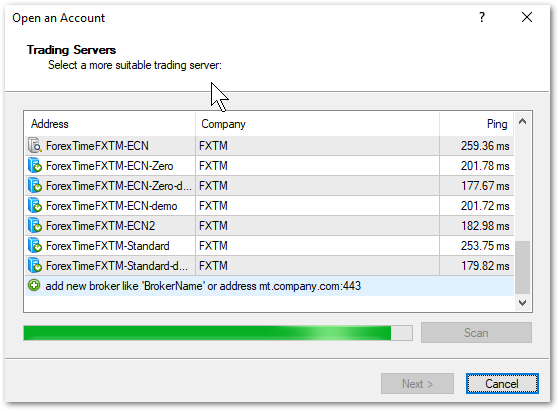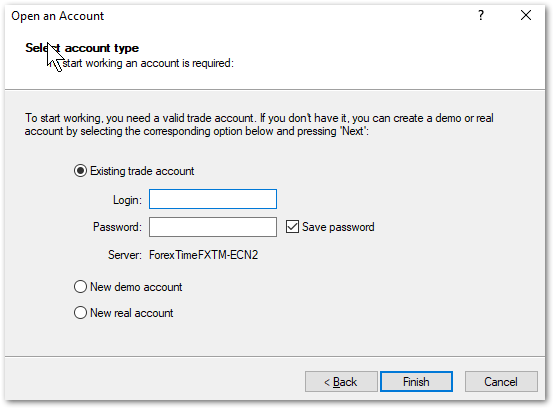 3. Check your internet connection, disable firewall and internet security software
To check your internet connection, you may open your browser to see if you're able to load any website (E.g. FXTM Official Website

) to see if your internet connection is working.
If you've recently installed new software on your computer that may be blocking your internet connection, it's worth checking the program settings such as your firewall setting (disable it if necessary), and new applications that you have installed such as anti-virus, and internet security software.
If none of the above suggestions resolved the issue, please contact us.