Once you have provided all required documents, your account will be verified within 24 hours.
Where can I check if my account is verified yet?
You can check the current status of your account in the top right corner of the MyFXTM Dashboard. Hover over your name and your account status will appear: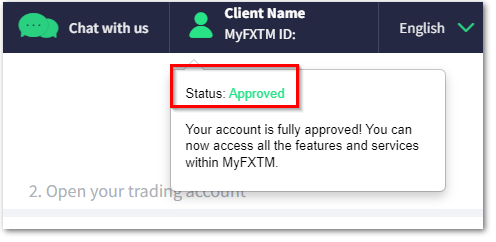 Alternatively, you can click on 'My Profile' and then 'User Profile' from the left-hand side menu.
How can I upload my documents to verify my MyFXTM account?
To upload your documents, you'll need to log in to your MyFXTM. From the left-hand side menu, click on 'My Documents' and then 'Verify Profile'. Click on the 'Upload' button next to the relevant document and browse to locate your document.
How do I upload an age verification document?
If you have been requested to provide age verification document, please reply to the email and attach the document.