At FXTM, we strive to provide a seamless and efficient experience for our Nigerian clients when it comes to managing their trading accounts. To ensure clarity, we've outlined key information about payment options, focusing on depositing and withdrawing funds.
Covered in this article:
How can I deposit NGN?
To explore all Naira transfer options, designate NGN as your deposit currency. You'll find various local payment methods designed for Nigeria, supporting Naira deposits. Input the amount, taking note of the minimum deposit requirement, to activate the deposit button for your chosen option.
Note: Naira deposits are exclusive to clients with a verified Country of Residence in Nigeria. 
If you deposit NGN to your USD, GBP, or EUR trading account or wallet, a conversion rate will apply. Please be aware that, in this scenario, Naira withdrawal options won't be available. For withdrawals from USD, GBP, or EUR trading accounts or wallets, use payment methods supporting currency withdrawal without conversion. 
You can find detailed instructions on how to make a deposit in MyFXTM Dashboard here: Nigeria Payment Methods.
How can I withdraw NGN?
You have the option to withdraw NGN seamlessly by choosing Nigerian Mobile Banking. Opt for your NGN trading account or wallet, input the amount, and submit a withdrawal request. FXTM will promptly send funds to your bank, and your account will be debited shortly after, typically within 30 minutes.
Please note that NGN withdrawals are specifically applicable to NGN trading accounts. If using Nigerian Mobile Banking and selecting a USD trading account or wallet, attempting to click "Confirm" will trigger an error message stating, "Withdrawals in NGN currency are only allowed for trading accounts in NGN currency." In such cases, for withdrawals from USD, GBP, or EUR trading accounts or wallets, consider using the Cryptocurrency Wallet option.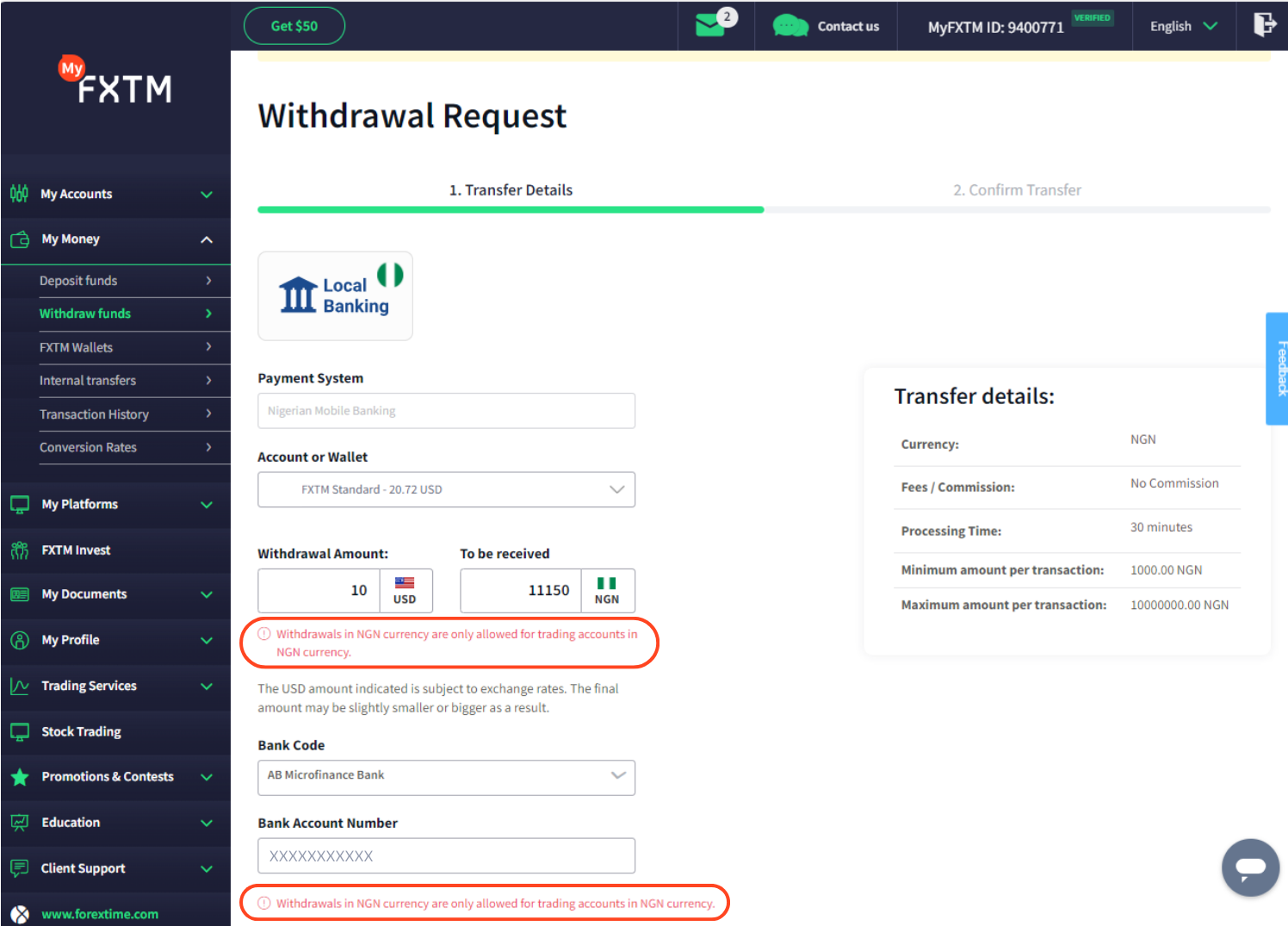 What should I do if my deposit option used is in NGN, and my trading account is USD?
If you have made a deposit in NGN but hold a USD, GBP, or EUR trading account, we recommend being mindful of the trading account currency selected during the deposit process. It's essential to match the currency of the deposit with the trading account to avoid any complications during withdrawals. If the trading account currency is USD, you can withdraw funds using payment options that support USD deposits to ensure a smooth experience.
We understand that these adjustments may raise questions, and our support team is readily available to assist with any inquiries. For further clarification or assistance, please feel free to reach out to our support team through the available channels. We appreciate your understanding as we work towards enhancing your trading experience at FXTM.