Who can join the FXTM Affiliates Programme?
The Affiliate Programme is suitable for anyone who has a strong network of online followers, either through a blog, social media platform, or website.
Note: You must be either an individual over 18 years old or a company. While we'll consider your application carefully, in some circumstances we may not be able to work with every prospective partner. Anyone may submit an application, but we do reserve the right to refuse membership to a site (or revoke a site's membership) at any time if we feel that it contains objectionable material.
How do I apply?
To register as an affiliate with FXTM, please follow this link and fill in all required information. Once you complete the registration form, we'll review your application within 2 business days.
Are there any fees for joining the programme?
No, there are no fees to join. Signing up to become an Affiliate with FXTM is fast, simple and free of charge.
Which documents do I need to provide?
Our regulators require us to verify all applications, so we'll ask you to submit the following:
For individuals: Proof of identity, including your name, date of birth and residential address.
For companies: Details including your certificate of incorporation, company identification number and business address. In rare cases, we may ask you for additional documents or information due to various legal obligations.
At the payment stage, we'll need your bank details or information for any accepted payment service provider. Our Backoffice Department will be in touch to request any additional information.
Where can I find my affiliate link?
Please log in to your affiliate account. You can find it in your Affiliate Dashboard when you click on Marketing Tools and then Default Links.
Your affiliate link will look something like this: https://go.fxtmaffiliates.com/visit/?bta=XXXXXbrand=fxtm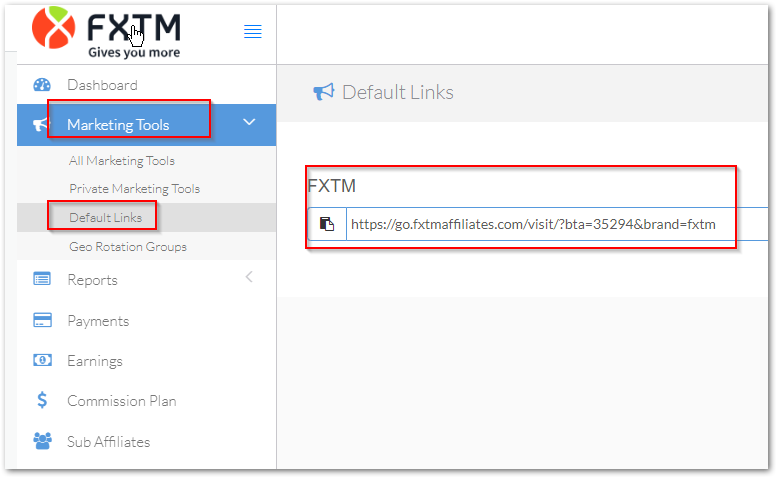 Do I need a website?
While having your own website is the best way to promote yourself as an FXTM Affiliate, it's not the only option. We provide a variety of advertising materials for you to promote through whichever online channel you use (e.g. social media) for your business under our supervision, in keeping with the Affiliate Agreement. You can use multiple websites, but all sites participating in our partnership programme must be approved by FXTM.
What are the benefits of joining the FXTM Affiliates Programme?
FXTM Partners provides you with:
Industry-leading payouts of up to $800 CPA. Read more about our CPA structure here.
State-of-the-art affiliate dashboard from our friends at CellXpert.
Track performance at a touch of a button.
High-converting multilingual banners.
Affiliate Manager on hand to assist you.